Top 10 Highest Paying Jobs in Pakistan in 2023
With the rising inflation, every youngster and even middle-aged person in Pakistan is concerned about their careers.
People feel oblivious and unaware of the upcoming economic crises. However, if you think about this chaos, one would realize that it carries the solution in itself.
Whenever people would be panicked because of inflation, some would either start new business ventures to earn better, while others would look for great employment opportunities and careers. Then eventually this will create a healing system for the economic conditions.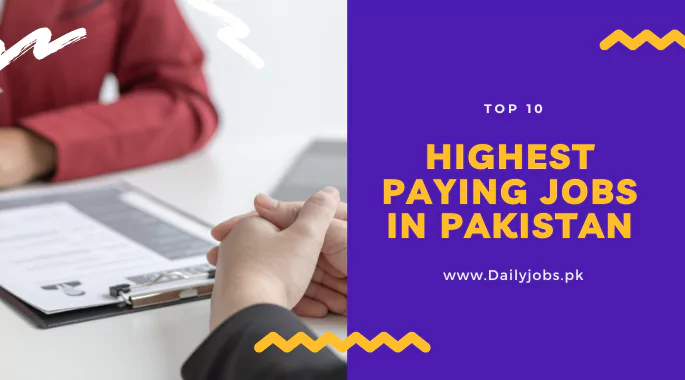 Well, without drifting too much to the solutions, let us give you some helpful information in this regard.
Even though technology is a blessing in disguise, it has surely confused the coming students. A lot of career options were quite simple with basic professions. Now things have become complex, thus, the selection of a suitable career is hard.
Worry not, I am here today to explain the most beneficial and highly-paid career options in Pakistan.
In this article, we will be giving you a brief account of each highly paid job option in Pakistan. Not only this, I will also share the potential job areas, such as companies and MNCs where you can get a good job after choosing those careers. So let us start.
1. Chartered Accountant

If you love stats and maths, but don't want to become an engineer in Pakistan. Then they should consider chartered accountancy as a career.
Every big company requires a chartered accountant. Apparently one might think that in Pakistan, the industrial boom is a far cry, and we have very few companies of such a high class which would require a full-fledged chartered accountant to manage their accounts.
However, this career can lead you to international exposure. Even while living and working in Pakistan, you would be in the upper strata of the working class.
Plus, thanks to remote job opportunities, one can easily land a great opportunity. If you are still in high school and don't know much about the CA thing. Then let us explain it to you.
You can do the following jobs after getting a CA qualification.
Auditor.
Management accountants.
Financial analyst.
Tax accountant.
The average salary of a CA is around 1 million to 2 million pkr. Is that not enough? Several companies would be offering jobs to a CA. Such as
Jazz.
Nestle.
Engro
Unilever.
Local banks.
K&Ns.
These are all the local companies; for international jobs, there are hundreds of opportunities across the globe.
2. Dentist
Those who are inclined to the medical profession must think about being a dentist. If you compare the projection of a doctor's career in Pakistan, and of a dentist, you would see that a dentist starts to earn better far before the doctor earns.
A doctor would need to do a house job for 18 months, and then post graduate and specialization to earn well.
But on the contrary, if someone goes for dentistry, then just after five years you can start just like an expert. Even though the experience would count, still you can earn way more than a doctor.
Dentistry would be a wise decision for middle-class students who need to change their orbit of life.
Now, coming to the earning slot. In Pakistan a dentist can earn. According to PayScale the average salary of a dentist in Pakistan annually is around 8 lac pkr. It can go as high as 30 lakhs a year.
Then moving on to the next point, most of you would feel that a dentist will always be doing an on the field job. Here you are a bit wrong. Dentists are not only checking live patients, but they also work as virtual orthodontics. For example, in designing braces and aligners.
Who would hire dentists? Well, you can get jobs in the following offices.
Govt hospitals.
Private hospitals.
Set up a clinic.
In collaboration with some famous clinics.
In virtual orthodontic service companies.
They can also offer remote work services as the virtual orthodontic companies. There are several multinational companies such as Straumann, and Dandy in that regard.
3. Data Scientists
Data analysts and data scientists are now pretty important for any company. This entire setup of social media, and digital marketing is because of proper data analysis.
Data analysts would study stats and progress of a company to inform the planners accordingly. In coming times, a data scientist would be a revered profession.
In Pakistan, there is currently no formal degree for data sciences. However, one can go for various certifications to get a job as a data scientist.
People from different academic backgrounds can pursue this career. The most prominent academic backgrounds for being a data analyst would be a major in maths, computer sciences, engineering, and a major in stats.
According to surveys, a data scientist earns nearly 180 lacs a year. But it depends on the experience, company, and the job position of the data scientist.
You can possibly get a job at
Amazon.
Daraz.
Shopify.
Payoneer.
Jazzcash.
Microfinance banks.
5. Supply Chain Management
Even though Pakistan is not great at exporting, and almost every product Pakistani uses is imported. But, a supply chain manager would still earn a huge amount in Pakistan. Do you know how? Because Pakistan is a hub for every big company. They need some great supply chain managers to handle the imported products.
Now, coming to the average salary of a supply chain manager, he would nearly earn 15 lakhs a year initially. The maximum salary depends on the experience.
For a supply chain manager, following companies would be an opportunity.
Unilever.
Nestle.
GSK.
Abbot.
IBM.
Automobile companies.
Mobile phone companies.
6. Cybersecurity Professional
With the increasing use of cyberspace, the need for cybersecurity is inevitable. In this case, again, you don't need to enrol in a formula degree program. However, the best way would be short courses and certifications. The most reliable ones are by CISCO.
The average salary of a Cybersecurity professional is around 25 lakhs a year. It is a fine option for any Pakistani who loves coding, and telecommunication.
They can be hired by any MNC, and work from home, as there is no specific need to handle the technical stuff.
Jazz.
Zong.
Banks for online banking.
Huawei.
PTCL.
In various software houses.
7. Project Manager
In this world of opportunities, each company is trying to get the tender. However, only those who have the best project management team will succeed.
To become a project manager, you will need to do a BBA or MBA. However, it also takes some additional skills to become one, such as great speaking power, and management skills.
The average salary of a project manager in Pakistan annually would be around 25 lacs. It is a fine package.
A project manager can most probably secure a job in the following companies.
Any commercial bank.
Engineering companies.
Social work NGOs.
Schools, and other educational institutes.
Cotton and textile industries.
Food and beverages industries.
8. Doctor of Physiotherapy
This is one of the most underrated jobs in Pakistan. People don't think that it is a reputable duty, but ask someone in need, and you would know the word of a DPT. On average, a qualified doctor of physiotherapy earns 1200 per hour.
Unlike the MBBS doctors, you don't need to go for extra specialisation and house jobs. It would be a five-year degree that can help you earn a fortune. It would be a great choice for Pakistanis living in urban settings, as there they can catch more clients. Moreover, the gym culture is also famous in megacities.
You can secure a job in the following institutions after choosing this career.
At physical training institutes.
At schools for special people.
In gyms.
Teach as a physical science teacher.
Guide for athletes.
The best thing about being a doctor of physiotherapy is that they can work as freelancers. They don't necessarily need to get a job in a hospital or institute, their certification would be enough to get some work.
9. Doctor of Nutritional Sciences
With the increasing awareness about a balanced diet, and fitness, more people, particularly the upper middle class. So, a good nutritionist can earn a great deal through this rising opportunity.
So, anyone interested in the medical field can opt for nutrition and viola! It would make Thurgood fortune.
For each case, a good nutritionist in Pakistan, particularly in urban areas, is earning around 5k. So, it sums up to a good amount, even when you have 20 clients a month.
You can get a job in any of the following
At hospitals, both private and public.
At clinics.
Start your online business.
At a gym.
In educational institutes.
10. IT Expert
Which department does not have an IT section these days? Almost none. Therefore, anyone who has an IT degree, and knows the work can earn a handsome amount.
The average salary of an IT expert in Pakistan is around 7 to lakhs a year. It is a reasonable salary for a middle-class person. However, with time when you gain experience, your income will increase.
You can apply to the following companies for the job.
Netsol.
Careem.
Uber.
Banks.
Jazz/ Zong/PTCL.
Different private enterprises.
11. Creative Artists
As generation Z and X are more inclined towards work from home. Thus, such people should consider going for some arts degree. Digital arts, such as graphic designing, and illustration can open several job avenues for you.
The average salary of a creative designer varies, however, you can earn up to 25000 to 50000 for a single project.
Currently, in urban areas and megacities, there are many offices where you can easily get a job.
Ad agencies.
Marketing companies and enterprises.
Art colleges.
Private institutes.
Conclusion
Choosing the best career for yourself is a multi-faceted phenomenon. You need to understand your inner voice and urge, and then decide the sub-branch of that main field. The above-discussed careers are currently among the top and highly paying jobs.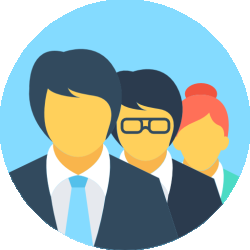 Latest posts by Dailyjobs Team
(see all)